It has been a very long week. I have these seemingly insignificant issues, like migraines, allergies and eczema, that can literally take over my life, which they did this week. Thankfully Daniel was a big help to the kids and me, even though he had a long week at work too.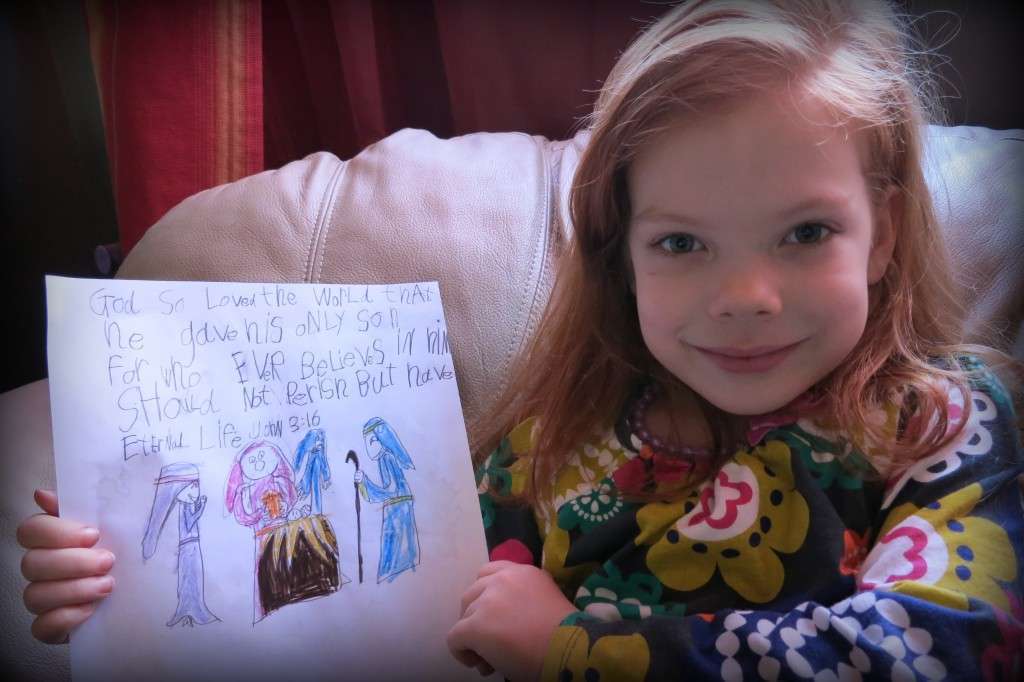 One highlight of the school day on Friday was Mara spontaneously drawing a picture to go along with her memory verse, while waiting on me to get back from changing kids' diapers and getting David set up for his room time. She wrote John 3:16 and drew a picture of an excited Mary looking at the Baby Jesus with Joseph and shepherds worshipping too.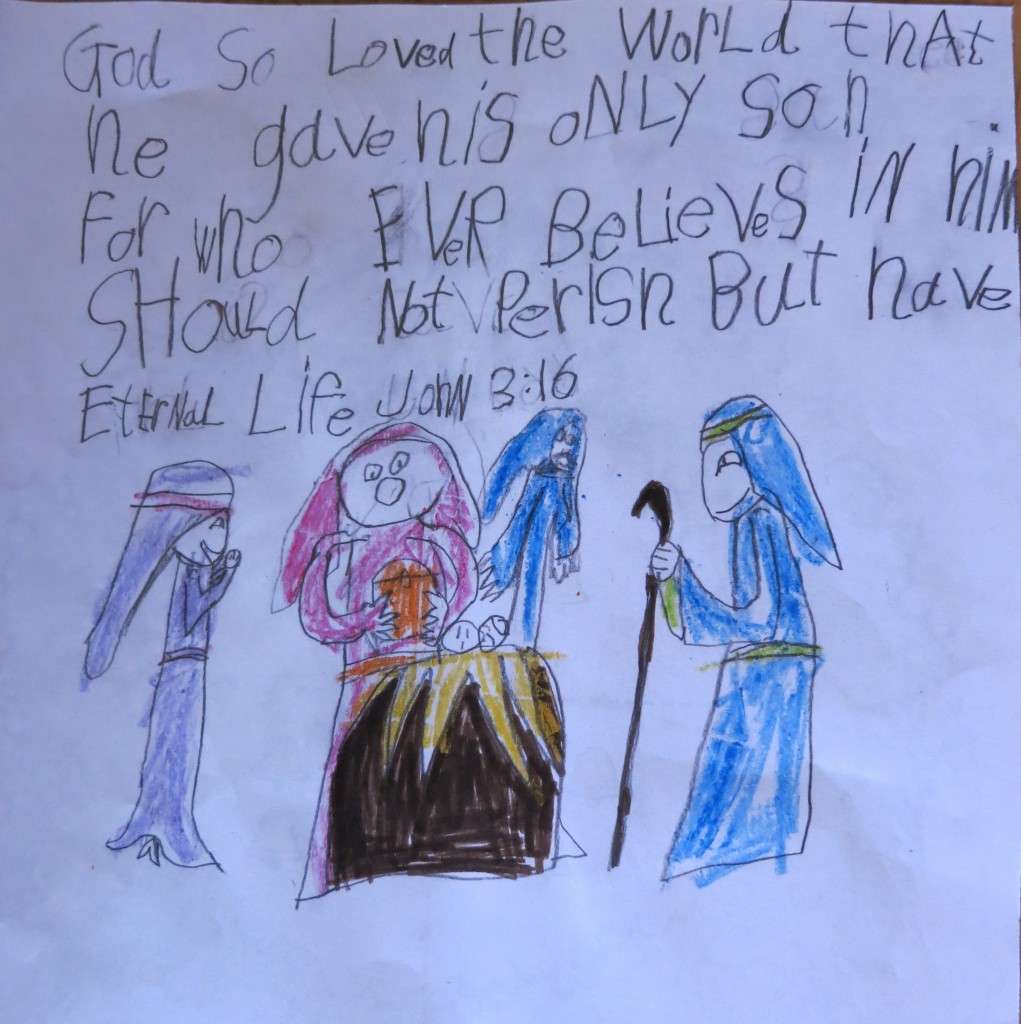 I talked about my desire for each one of them to believe in Jesus and have eternal life, and Mara emphatically said, "I do!" while Micah, looking conflicted, said, "I really really want to believe, but sometimes I just don't–and I disobey." I tried to explain again that it is not what we do for God that makes Him love us, that He loves us while we are sinners. But when we know how much He loves us, we will want to obey. It sounds like that's what Micah is saying, but it's hard to know for sure, when he's only four.
School has been rough this week, not because of schoolwork–both of them are doing fine–but because it's not "meshing" well with the schedules of the two little ones, and because of all the interruptions, it's taking three times longer than it needs to take. I need to go back to the drawing board as far as the morning schedule and what works for Mara and Micah while Carissa and David are up.
During lunch I called Daniel. I just couldn't wait till Carissa and David's naps–to finally get "something done"–but Daniel said, "Have you looked outside? It's really nice out today. I just wanted to be sure you knew that." I knew, but it wasn't until he said rain/snow was in the forecast for Saturday that I really thought I should switch plans and take the kids outside.
I'm so glad I did!
Because of the cold weather, we haven't had a good play-at-the-park day in a long time! So it was wonderful to get outside and enjoy some fresh air and let the kids run.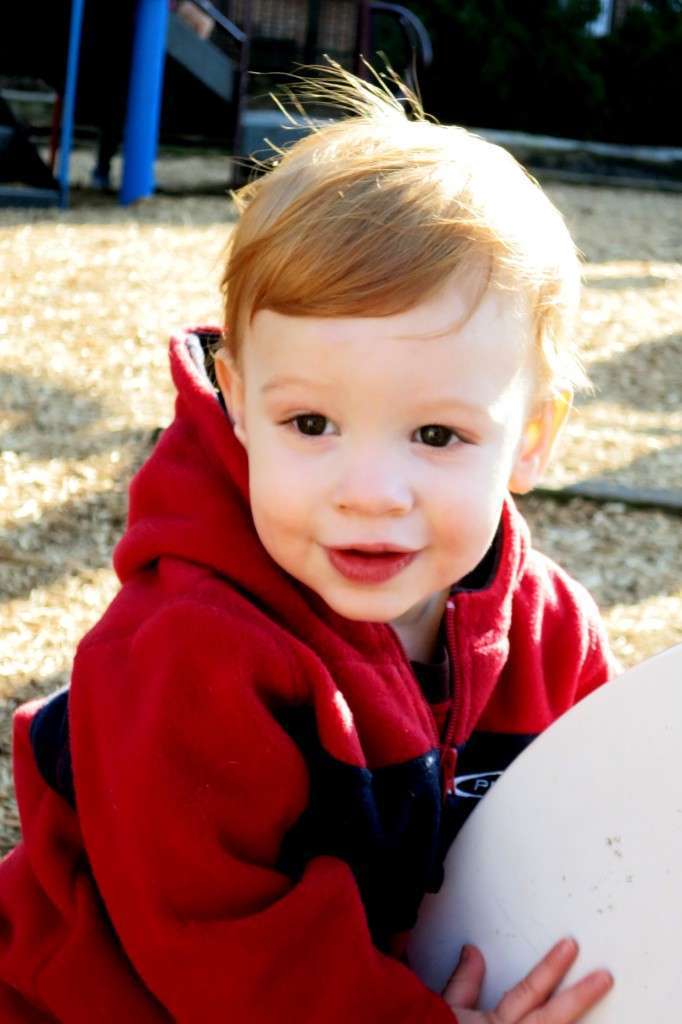 They are finally getting to ages where watching four at the park is not terribly stressful. It is definitely full-time, but not so stressful!
This summer when David was crawling–then walking–he was very mobile, but way too adventurous for his own good! And Carissa was on the younger side of two, still needing me to spot her on the slide and sometimes while she was climbing too. Of course, I still had to keep an eye on the older two (5 and 4) and push their swings, tell them not to pet stranger's dogs, and not to run too far away from mom. . . What a difference a few months make! Carissa, almost 3,  is pretty competent on the playground now (even if she still likes Mom to catch her at the bottom of the big curly slide) and David has taken a few tumbles and actually realizes he has limitations now.
I wanted a playground and some sort of field with trees and grass where the kids could run and kick a ball around. I almost drove down to my favorite park south of the city, until I saw how heavy traffic was on the interstate, and opted for something closer, instead of 45-minute drive each way.
I let the older two play within my sight and asked Carissa to stick with David and me.
Carissa kept trying the curved loop climber, which is about 4-5′ tall, and (this happened several times) she would get about halfway up, and then call out, "Uhhh, Mommy? I think I'm scared!" Her indecision made me laugh–and I encouraged her to stick it out. Eventually, she even went down the curly slide alone, and again, and again. . . She tried some monkey bars that were close to the ground.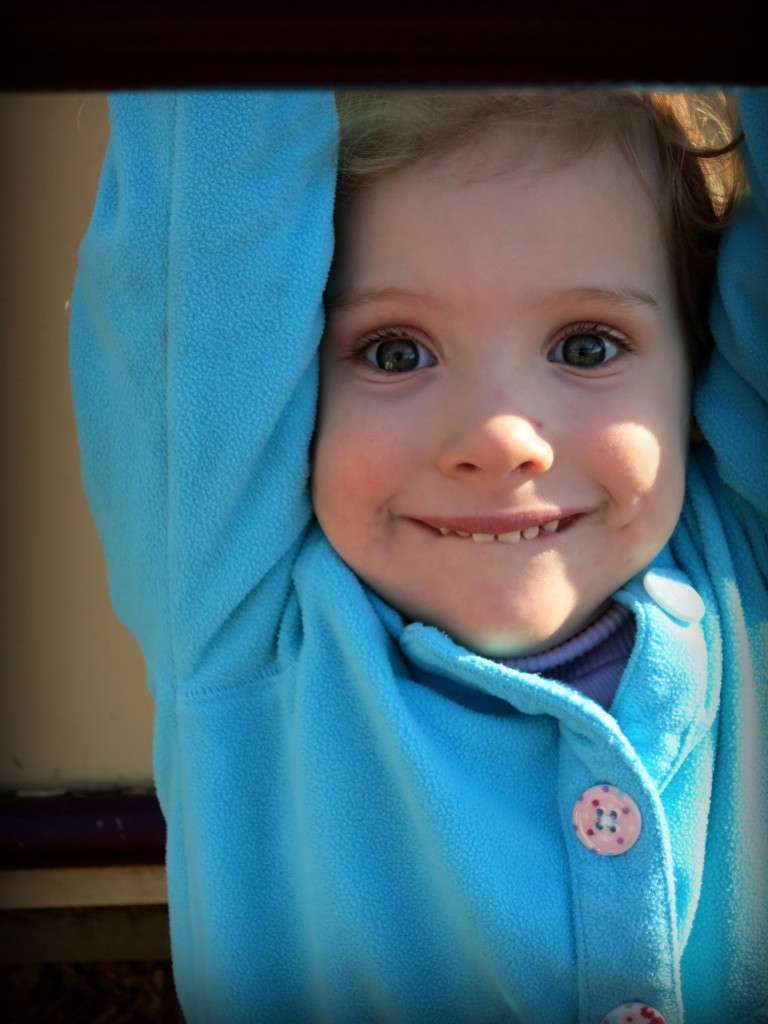 I followed David as he rambled up the steps and scooted backwards on his tummy toward the slide–his preferred method. Unfortunately this past summer, he had a head-over-heels-slide-incident that has left him permanently terrified by the idea of sitting to go down a slide. But he is still quite brave–he climbs up and slides down all by himself. He will climb up and then look around till he catches my eye, smile a big smile and slide down. I love that boy! And I couldn't help taking several pictures of him–now that he's a big 18-months!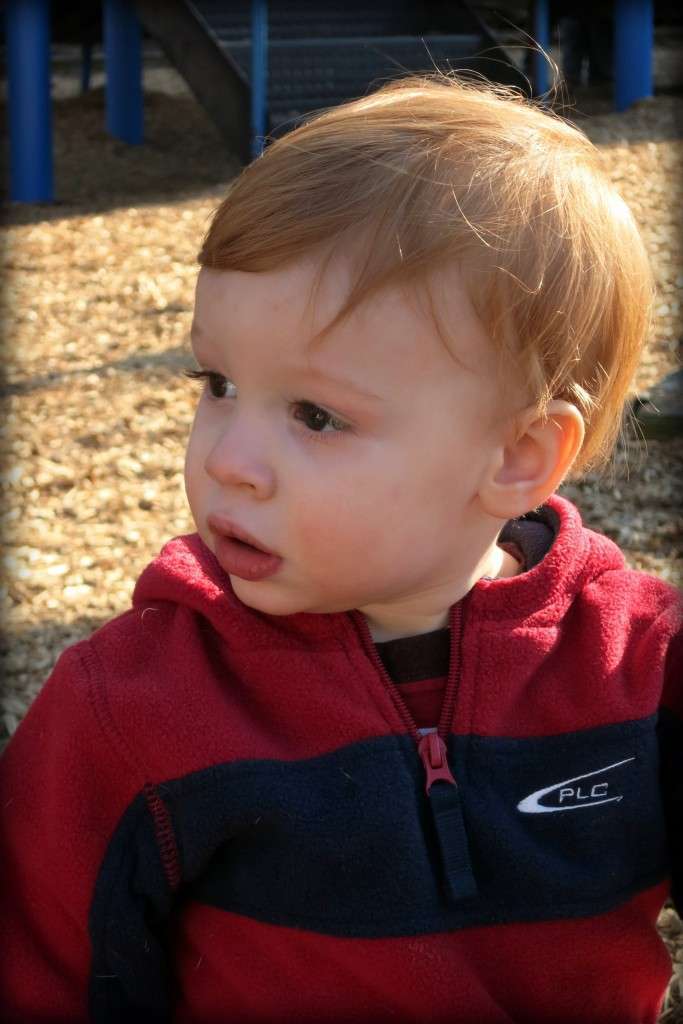 He has so many expressions–and I love the chubby cheeks!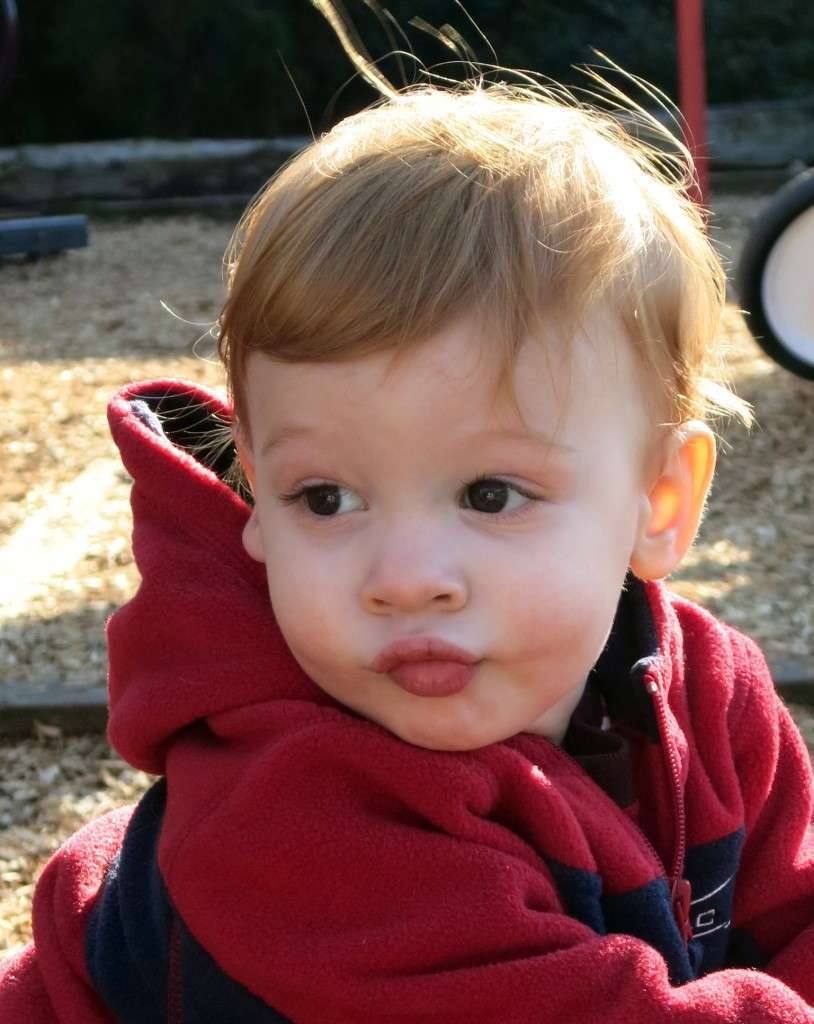 You can tell he busted his top lip yesterday afternoon running through the living room with Carissa. . . It seems like he has as many bumps and bruises as all the other three put together!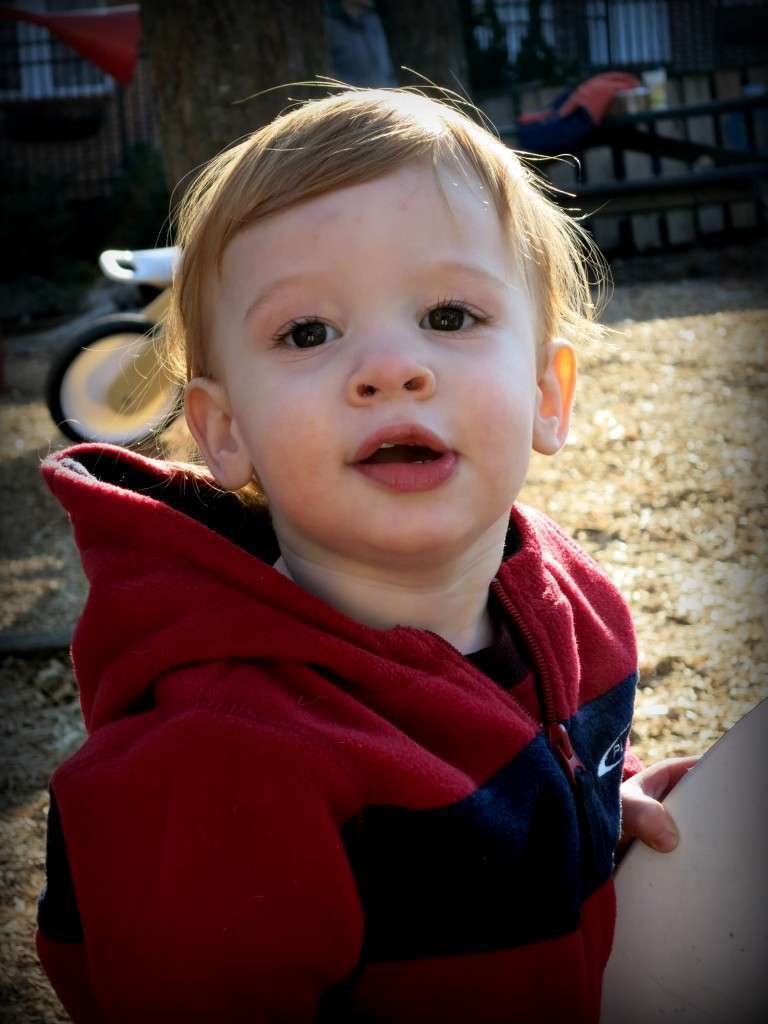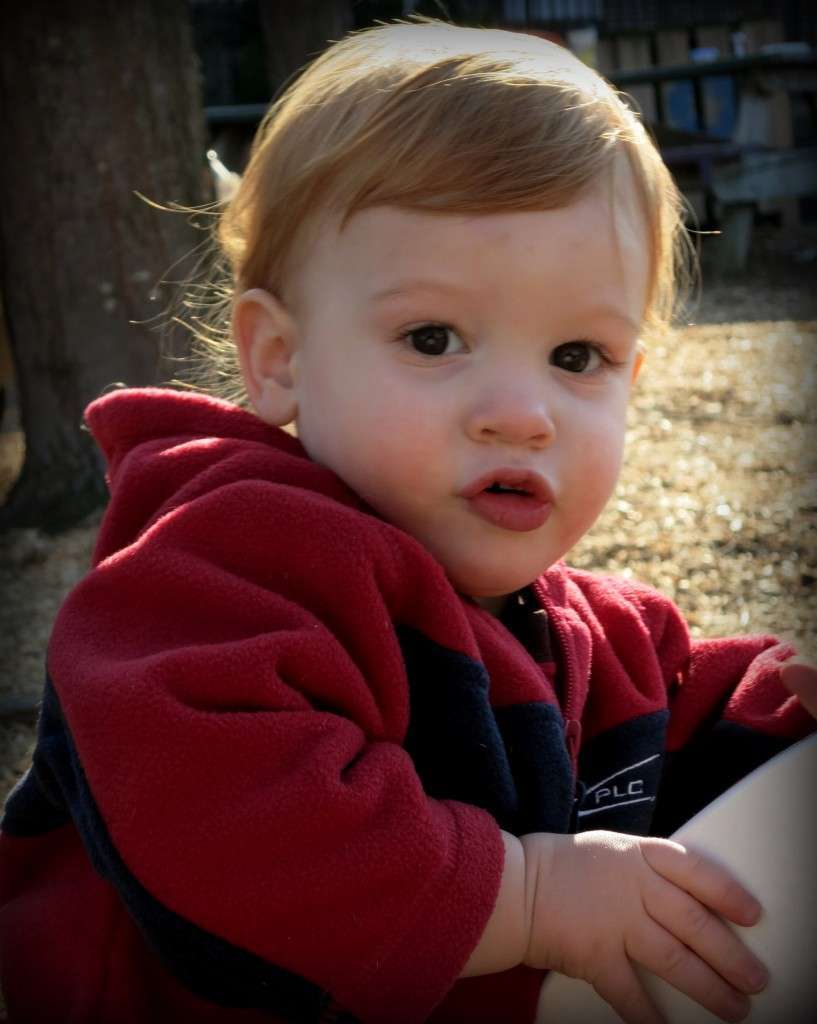 Another mom and dad were watching too, as their son about the same age timidly approached the slide. David "chatted" with him in language only babies seem to understand. The dad said, "Sounds like they were saying–something." We couldn't understand, but our boys smiled and laughed.
The little guy toddled up the steps with mommy close by and sat at the top as Mom and Dad coaxed him down.
David was running in circles–up the steps, down the slide, up the steps, down the slide, up the steps. . . The parents spoke quietly to each other, until the mom burst out, "How old is he?"
"Eighteen months."
"See?! I told you he's older," she said to him.
"How could you tell he's a month older?" he asked.
"How he acts.–Besides he's a second child too, isn't he?" she added.
"Well, he's the fourth one actually," I told them, "so yes, he's started doing everything earlier because he watches the older ones and does everything they do."
And with a final "See?!" she answered his question.
Meanwhile Mara had made friends with a six-year-old boy on the slide. Bless her heart, she is always soo loud! We are working on it. (I promise we are!) But the whole park could hear her, "Mommmeeeee! I made friends with this boy, and he's six like me!!!!"
Thankfully, the boy didn't seem to mind. After a while on the playground, the kids wanted to go down to the stage where they saw a bunch of older girls playing music and doing gymnastics. It's starting to set in that Mara isn't far from their ages. I want her to have girl friends, I really really do, but sometimes the girls' conversation makes me a little uncomfortable as a mom of littles. The girls were playing a game where they were pretending they stole something and seeing someone naked. . . Mara ended up wanting to play soccer with a group of boys, which was fine with me. The girls told Carissa she could come up on stage with them, and I hung around to listen and make sure David didn't jump off the stage too. David found another little boy his age, who was kind enough to share his sand bucket and sand toys.
Mara was having a great time kicking the ball around, and I was glad to see her running so much. Micah got kicked hard in the shins a couple times and melted down. I told him he had to stop the crying or we would have to go home. I talked to mom of the other boy, and she said her oldest son used to cry that way about anything, until he was about six, and then it just stopped. "Oh, good! So maybe there's hope for my son too?" I laughed.
She said her younger son isn't that way at all–and neither is David! It's interesting. Every child is different. The mom and I talked for a long time. She wants more children, hasn't been able to. . . Her sisters have four and six children. . . 'How do you do it with four this close? You really have your hands full!'
After awhile, Mara's new friend wanted to play Duck Duck Goose. While the boys were all sitting down, Mara went running off kicking the soccer ball across the field, her long red hair flying straight out behind her.
"Mara!" I called to her. "They're going to play Duck Duck Goose. Why don't you go play too?"
"Nawww," she called back, kicking the ball again. "I'm just not in the mood."
The boys' moms laughed at that one. One mom threw her head back. "Ha ha HA! 'Not in the mood!'"
I just shook my head. I can't believe this is my daughter talking.
Carissa met several people walking dogs. She especially liked one mom with a dog and a two-year-old boy, and she began talking the poor mom's ear off about our dogs–a German Shepherd named Verona and a Westie named McCheyne. After awhile the mom asked, "How old are you?" and Carissa jumped, holding up two fingers, and exclaimed, "I'm TWO!"
"Is she really two?" the mom asked. "Because my son is two, and he's barely talking at all."
"Well, she's practically three–her birthday is the first week of March," I confessed, "And she's the third child, so she hardly talked at all for a long time and then she just started talking in paragraphs, all at once."
"Really?! Well, our son seems to really comprehend–I mean it seems like he's really tracking with what we say–but he'll only say a few words," she shook her head.
"Then he'll get it," I assured her. "And once he starts talking, he'll never stop!" We laughed a little.
One of the boys' nannies had her dogs with her, and Mara, Micah and Carissa all took turns running her little pug Rosie across the field on the leash. They loved it. The nanny loved it. And Rosie the pug loved it too.
It was so nice to see the kids just running and playing, enjoying the fresh air in the middle of winter.
We got home and Daniel had to work later than he expected. We had leftover BBQ Jack Chicken for dinner so there was no prep work for me.  The kids and Daniel were all tired and went to bed early. Micah fell asleep at the dinner table. When I felt him, he was hot, and I found out he had a temperature of 102.6. My poor buddy. . .
So we were back inside for the night after a gorgeous Friday afternoon in February, with the forecast was calling for overnight temperatures back down in the 30′s and a chance of snow. . .