My friend Donna (a.k.a. "Beaux's mom") introduced me to a little book for young children called Truth in the Tinsel. It's 24 days of Scripture passages and crafts relating to the biblical account of the Christmas story.
My kids love doing crafts so much that my own time constraints (and serving the needs of the rest of the family) will really be the only thing keeping us from doing all of them.
Day 1 discusses the world's complete "inside-your-heart darkness"–the darkness of sin–apart from Christ.  We read Isaiah 9:2, "The people who walked in darkness have seen a great light; those who dwelt in a land of deep darkness, on them has light shined. . . "
I asked if any of the kids knew who "the great light" was, and Mara piped up and said, "Jesus!"
"Yes! It was a land of deep darkness," I repeated. "But Jesus came–he was the great light that shined on them."
Then Micah held out his hand in his Star Wars stance and asked, "Did he force them?!"
"What?"
"Did he force them?–with the light?" In his mind, the Star Wars "force" is something like shooting lightning, so I suppose there is a logical connection there somehow between the force and "the great light" here.
Not sure he's really getting this, but that's okay! One of these days, things will start coming together for him!
We made a "Candle" (light) ornament with the template provided and glued shreds of brightly-colored tissue paper between the candles. Of course, the craft is the kids' favorite part.
See if you can guess which child is tasting the glue. . .

Micah hasn't really used the scissors much and this definitely gives him a chance to develop his fine-motor skills.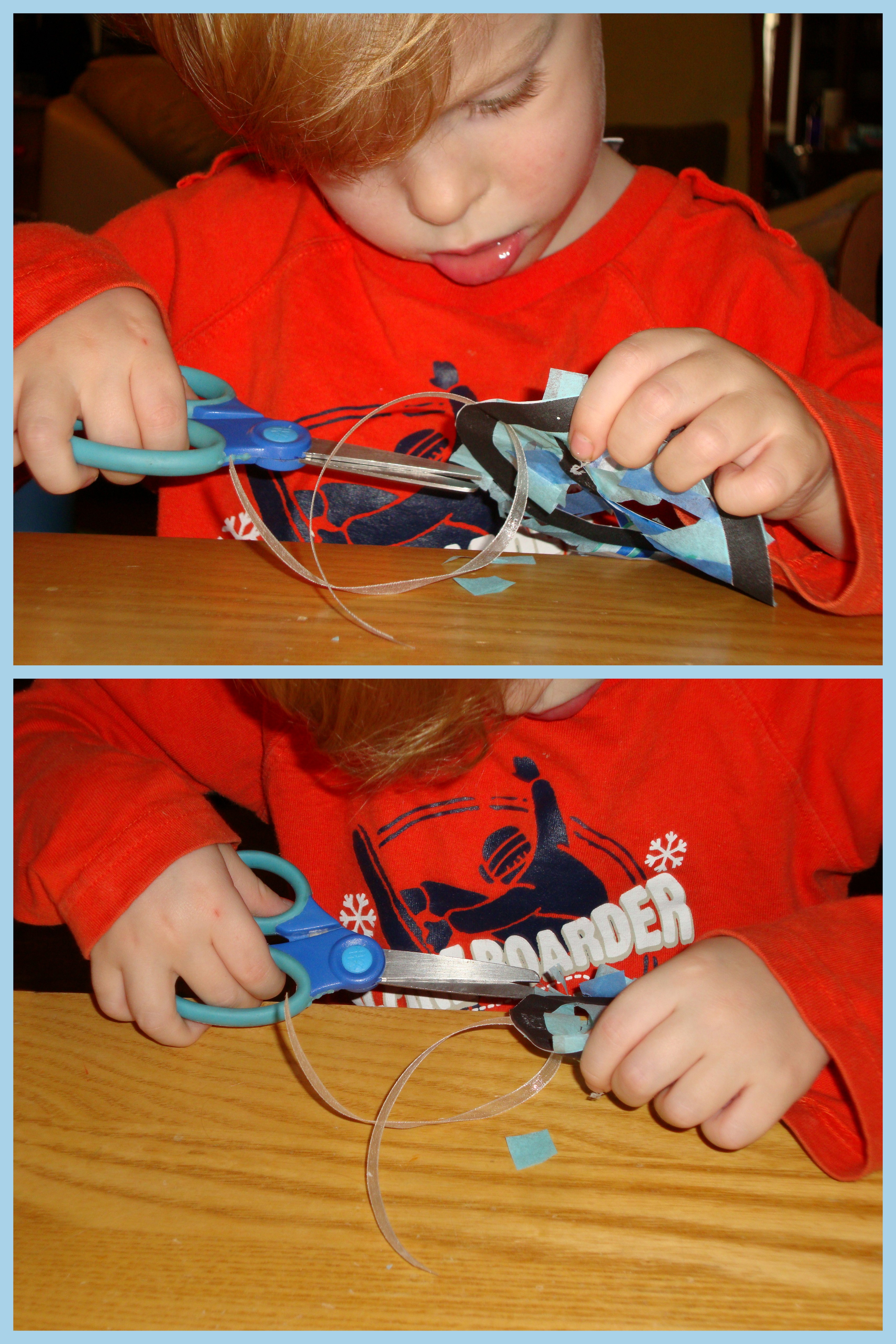 Often when I download pictures, I find snapshots the kids have taken randomly. Like this paper towel that Carissa photographed (an integral part of this craft, you know!).
I told the kids that the cool thing about this craft is that the light shines through the tissue paper, and we will see that more once we hang it by the lights on the tree. Of course, my goofy Mara and Micah had to hold their ornaments up next to their faces to "see the light coming through" for themselves.

And as soon as they finished making their ornaments, they wanted to set up the Christmas tree so they could hang their ornaments. . . but Mommy has to do laundry, wash dishes, make dinner this afternoon so . . . not quite sure when that tree is going up. But I think they're going to enjoy 24 days of Christmas crafts! (Thank you, Donna!)