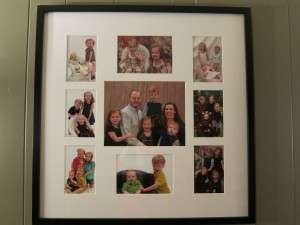 Over the holidays Pottery Barn had a sale on frames, and I found a 9-opening frame (regularly $79) for just $37, including shipping. I was excited because I've been looking for awhile! My plan was to create an accent wall over the couch in the living room–the only large area of non-block wall in our house that could possibly work for an accent wall.
I then found ten black frames (1 11×14; 1 8×10; 6 5x7s; 2 4×6) at Kohls for the total price of just under $16!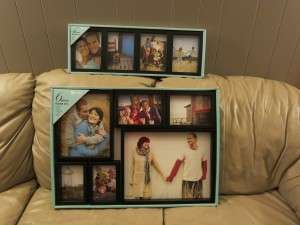 I initially thought they would ring up around $41 for all ten, which would have been a good sale too. But it was a crazy-good sale: "Buy one, get one for $1," but somehow they rang up 60% off the $39.99 price on back, then buy one, get one for $1, and that day they had an additional 15% coupon for each purchase! One of those moments where the cashier looks at the receipt like 'that-can't-be-right' and you just stand nervously hoping she won't call the manager, and they won't decide that there's no way they can just give stuff away like that.
When I got home, I pulled out my kids' portraits from the past 6 years–none of which have been framed, along with pictures of my family and Daniel's family trying to figure out which ones will fit in the frames. I worked for awhile, trying to get the right combination of landscape or portrait orientations and one picture of each of the four kids, plus group shots . . . I got all the frames positioned on the wall, but there was one 4×6 frame that still didn't have a picture in it.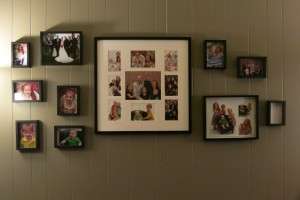 Mara came by and we talked about the pictures. Then she asked me an interesting question: "Why do we put up these pictures of us? I thought we are supposed to make God big and us little?"
"I-I-I-I know!" she exclaimed, ever full of ideas. "I can put something about God in that little frame over there. . . maybe I will draw a picture of a cross? or maybe a manger to remind us of Jesus!"
I knew that if I didn't say something, she would go draw the picture right then and there and expect Mom to frame it, right along with all the portraits. (In fact, she did draw a cross. And she did ask me later why I didn't put it in the frame.)
But in the moment, I told her that I was glad she remembered that God is big and we are small, and we want our lives to show others how big God is. But, I told her, on this wall we're going to put up pictures, just for a decoration.
"So you mean, we can't put up a cross?" she asked. "Not even in the littlest frame? . . . But how does that make us small and God big?"
Isn't it interesting how our children challenge what we teach them by contrasting the words we say with what we really believe, in the ways that we live? (My heart needs that challenge!)
I told Mara that was a good observation, and I promised her that we could put up something to remind us how big God is somewhere else. I told her that remembering His word and reminding ourselves of it often is one way that God can be big in our lives. So thanks to Mara Joy, I begin my search, and found some Bible verses that my heart would do well to remember every day.
I don't know how well the picture will show up here, but above the bookshelves I now have: "Be Still and Know that I am God." My tendency to get frazzled or harried or angry springs from not being still, from not "knowing" (in the sense of believing, trusting, resting in the truth) that He is God. This verse is taken from a beautiful psalm of rich meditation.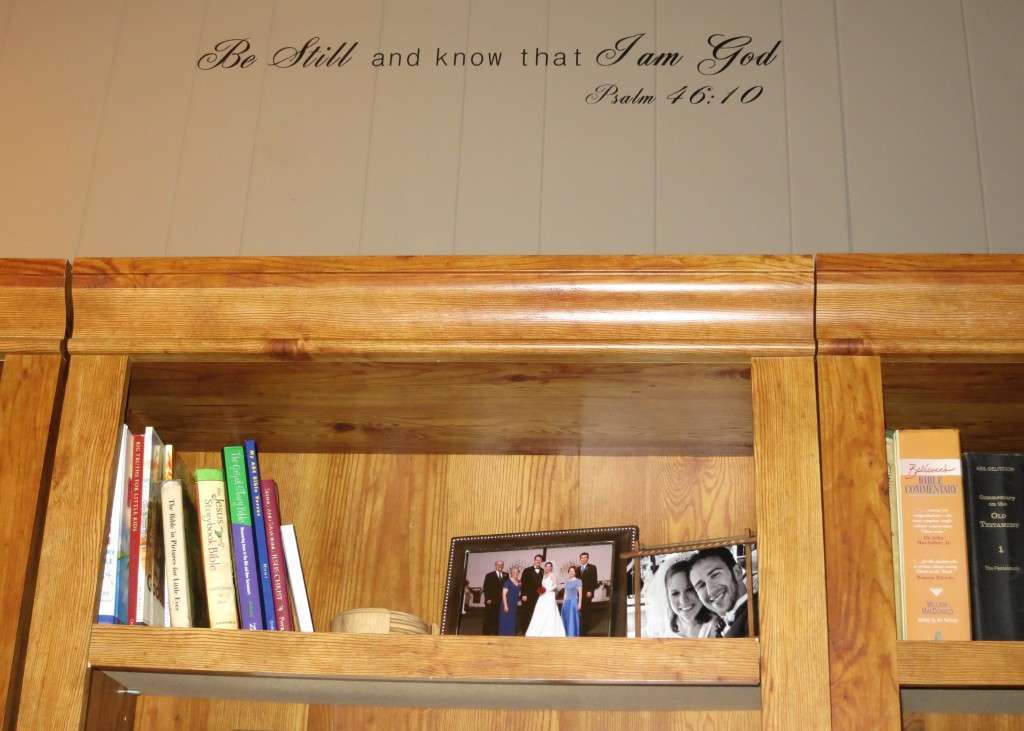 And over the doorway between the living and dining room, a reminder–maybe mostly for me!–each morning as I go into the kitchen to make breakfast: "This is the day the Lord has made; let us rejoice and be glad." The kids and I can easily fall into complaining and whining, rather than recognizing and rejoicing in His Lordship and great goodness in our lives! (And I will not complain about the dark house right here after posting that verse, but the flash kept glaring off the paint. 😉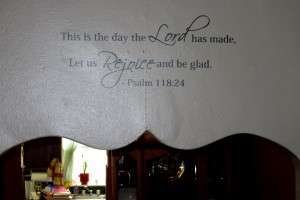 So I'll just post another one. . . but you can't really read this one. . . but that's okay because you know what it says from the picture with the glaring paint.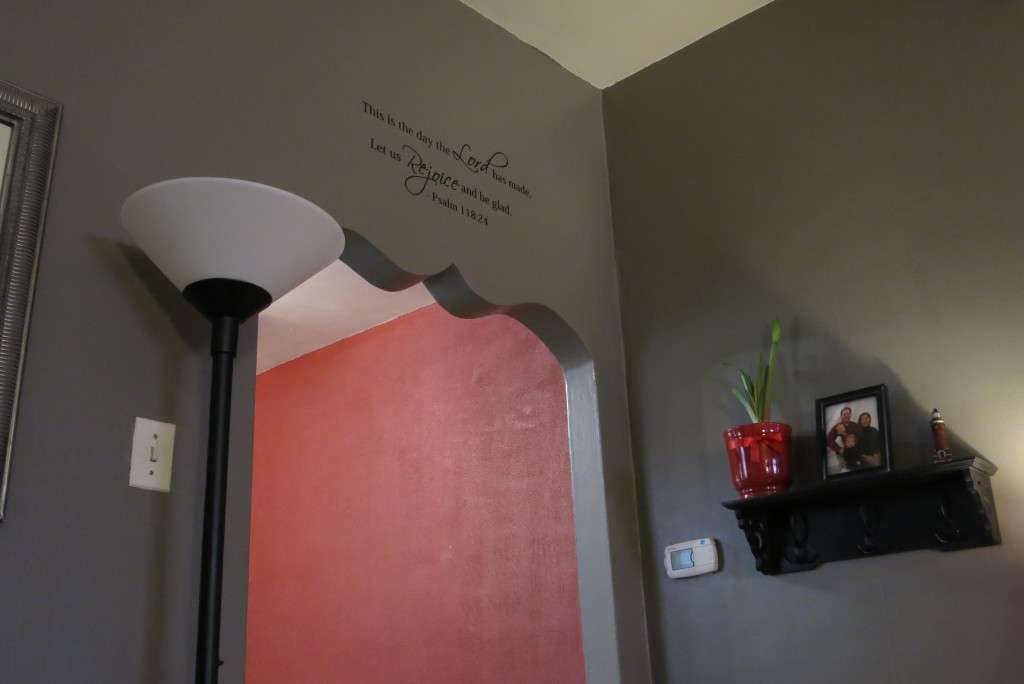 We can truly rejoice in each day that God has made, knowing it is given to us by an all-wise, most loving Heavenly Father who desires supremely our Christlikeness and His glory!
I don't mean to suggest that everyone should post verses on their wall if they want to "make God big" (like the Facebook statuses that say 'if you love God, you will repost this') but I'm just sharing that the verses have helped me–I do catch myself and my thoughts when I see these ever-present verse reminders.
Thank you, to my little Mara, for the encouragement to make God "big" even in our home decorating. 🙂
We can rejoice in the day that God has made, knowing it is given to us by an all-wise, most loving Heavenly Father who desires supremely our Christlikeness and His glory.