Every day I have a "school" post–or two or three–in my head that never make it onto my blog. Often I have pictures to go along with the posts too.
I remember back to That Year when I blogged every day, and I hope that someday I'll get my house and my homeschool and the rest of my life organized enough to allow time for consistent blogging again too.
People ask me how homeschooling is going. Truly I love the home "schooling." That's the fun part!
Mara will be seven in December. She is in first grade, doing great in all her subjects, and spends her free time writing and illustrating more "books" than I can count. She loves all things arts and crafts. She still enjoys playing princess dress-up and building with the megablock Legos and train tracks.
Micah is five, doing first grade work right along with Mara, except for the handwriting, which I'm having him do K-5. He is so competitive by nature! He loves the math worksheets and seems to have more of a "math" bent than Mara does. He also is finally enjoying his school reading. It used to be a chore; but now it is a joy to listen to him as he reads with great expression.  They both love science "experiments" and observations. They love heritage studies, and we often find additional activities or resources online for fun.
Carissa, 3, is not school age yet, but she knows all her letters and sounds and can sound out three-letter words. She knows many of the Bible verses and catechism questions from hearing the older ones' recitations. I constantly feel torn with the need/desire to spend more one-on-one time with her!
And then there is David, 2, constant bundle of energy and laughs. One minute he's saying, "Kiss me, Mommy! Kiss me!" The next it's "Bat-man, Ironman—FIGHT!" or "'nother joke! Knock, knock!. . ."  or "Where my keys?. . . Daddy work?" He brings us so much laughter and constantly keeps me on my toes!
The challenges of this stage are balancing time with the littles and keeping them occupied while spending focused time with the older two while keeping up on the housework, meals, groceries, etc. But, yes, the homeschooling is the fun part!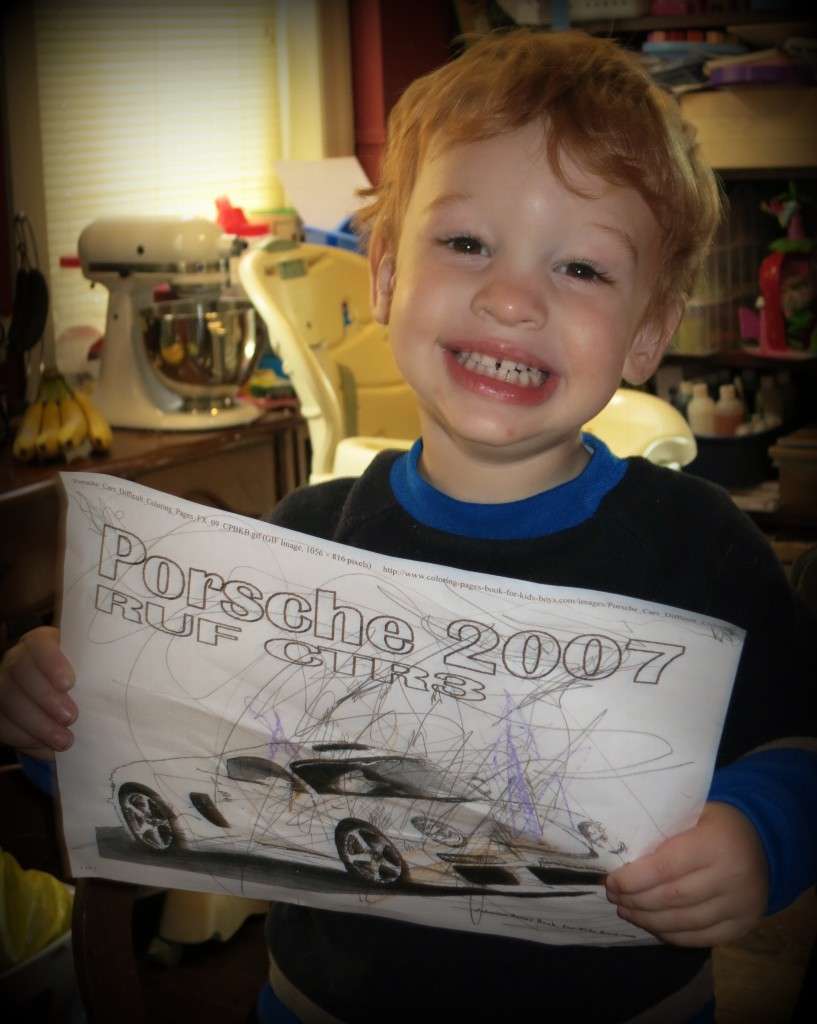 Here are a few memories of the day.
David often wants to "do worksheet" too. Sometimes I ask him what he'd like to color and print a free coloring page off the internet. There are free coloring pages for just about anything the kids ask for these days! The online resources are amazing! Today David asked to color a car–and picked a Porsche. Micah picked a Lamborghini. Of course!
We had a science chapter on the five senses, so when I found the "Five Fun Senses Stickers Scenes" at Oriental Trading (IN-9/1129), I knew this would be a fun reinforcing activity in which all the kids could participate. Each child has a sheet of stickers showing various objects, and they have to put the stickers on the chart under one of the five senses. The fun part (for the younger kids) is that sometimes there are several "correct" answers. (For example, popcorn: you can taste it, touch it, smell it, see it and hear it!)
Mara, of course, finished first. But they all enjoyed it. These activities are sometimes more memorable than the reading.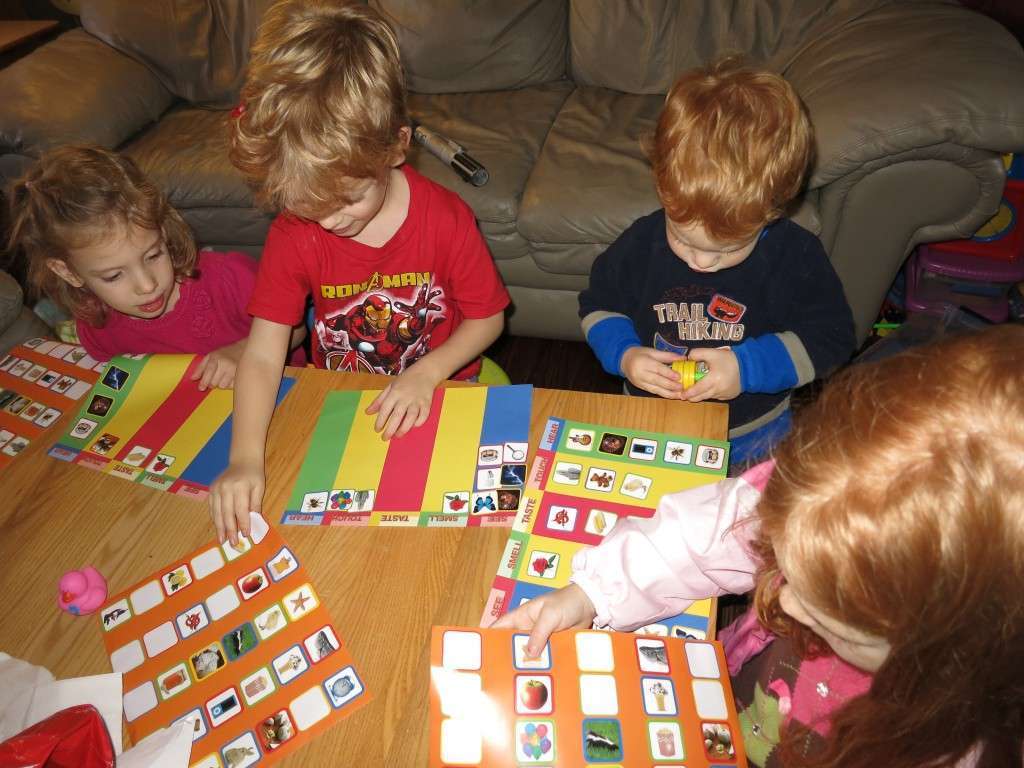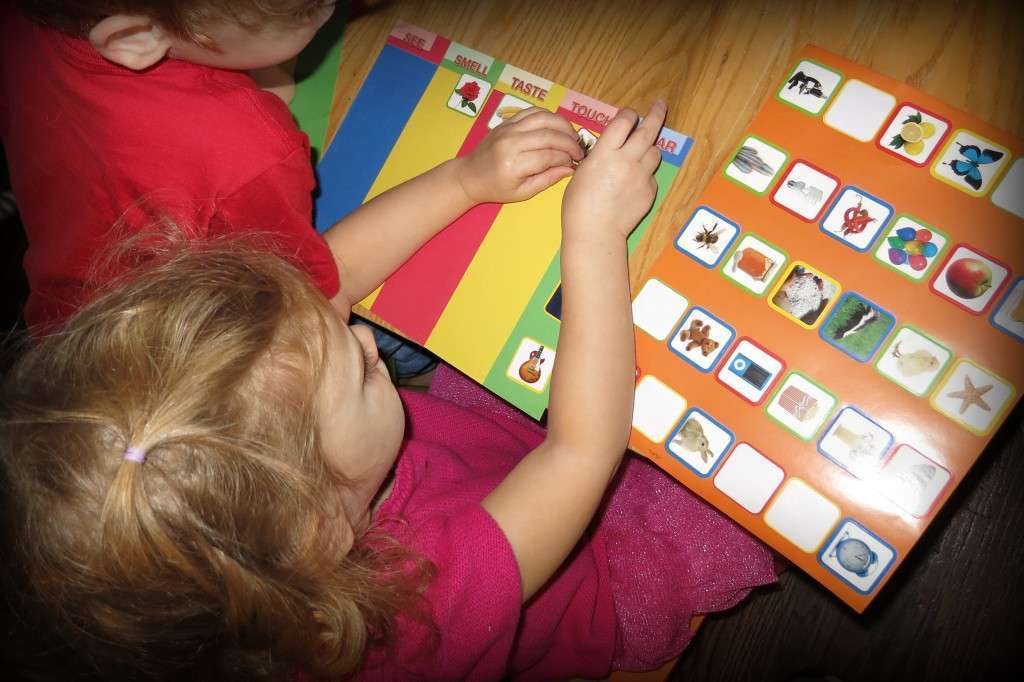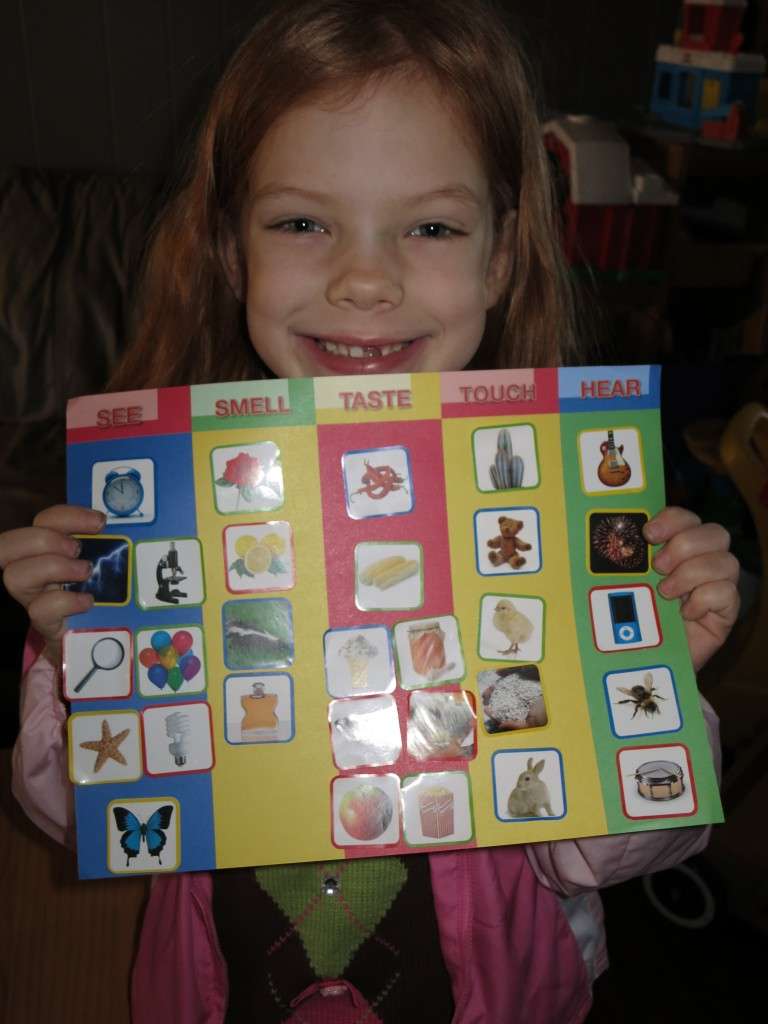 In Bible time, we had a lesson on telling the truth. The worksheet gave two stories and asked the kids to read the sentences and decide whether or not the child in the story told the truth.
Micah read the stories and answered the questions. Then he wrote his own story at the bottom.
"Micah! Did you finish your worksheet?!" (He told me this was "Mom calling me and asking me.")
Then he wrote "Yes" and "No" and circled "No" and told me that was him–telling the truth. That, no, he hadn't finished his worksheet. He makes me laugh.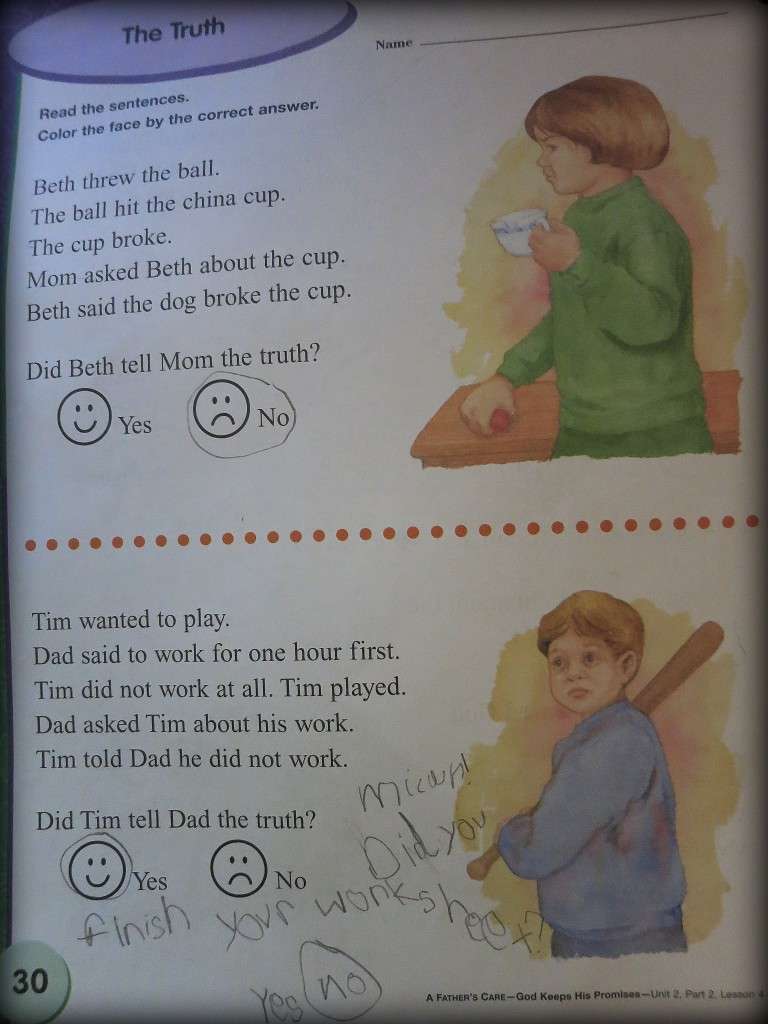 I suppose I was a little sad he remembers not having finished his worksheets. But I was glad he was telling Mom the truth! 😉
After school Micah had the idea of making a marionette show, like on the Sound of Music. Mara spent a very long time creating the sky and the clouds and a little person who dangled from a hanger over the front of their little "stage."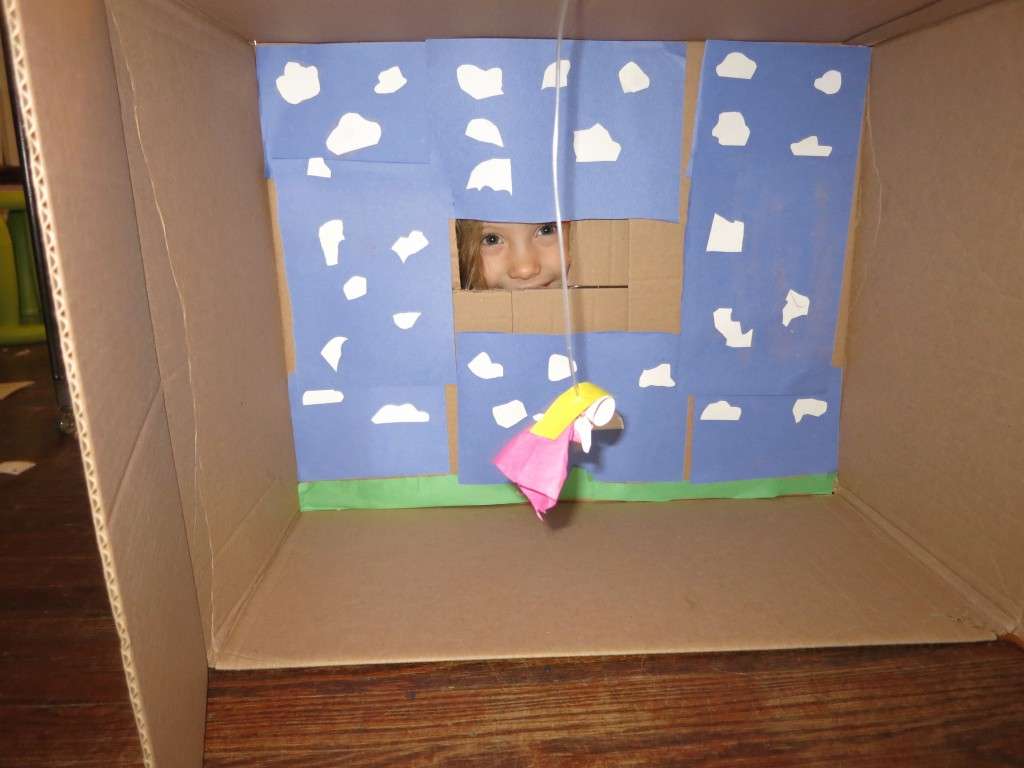 Here's Carissa showing us how it works. There was even a little hole in back, so they could see the show they were putting on.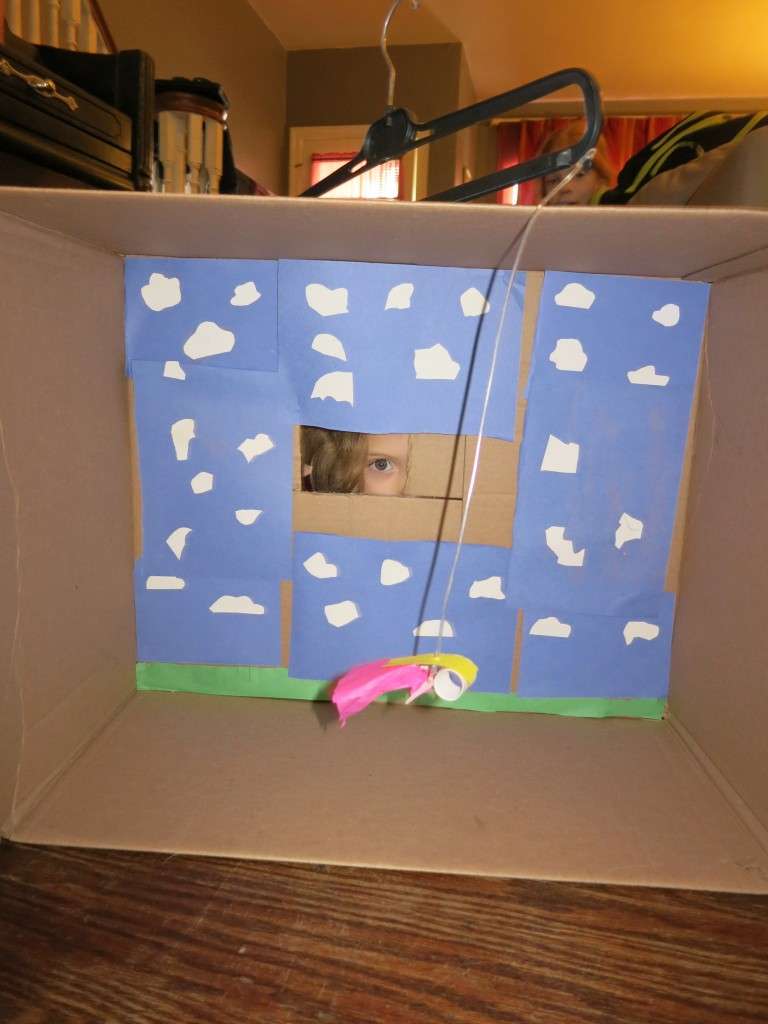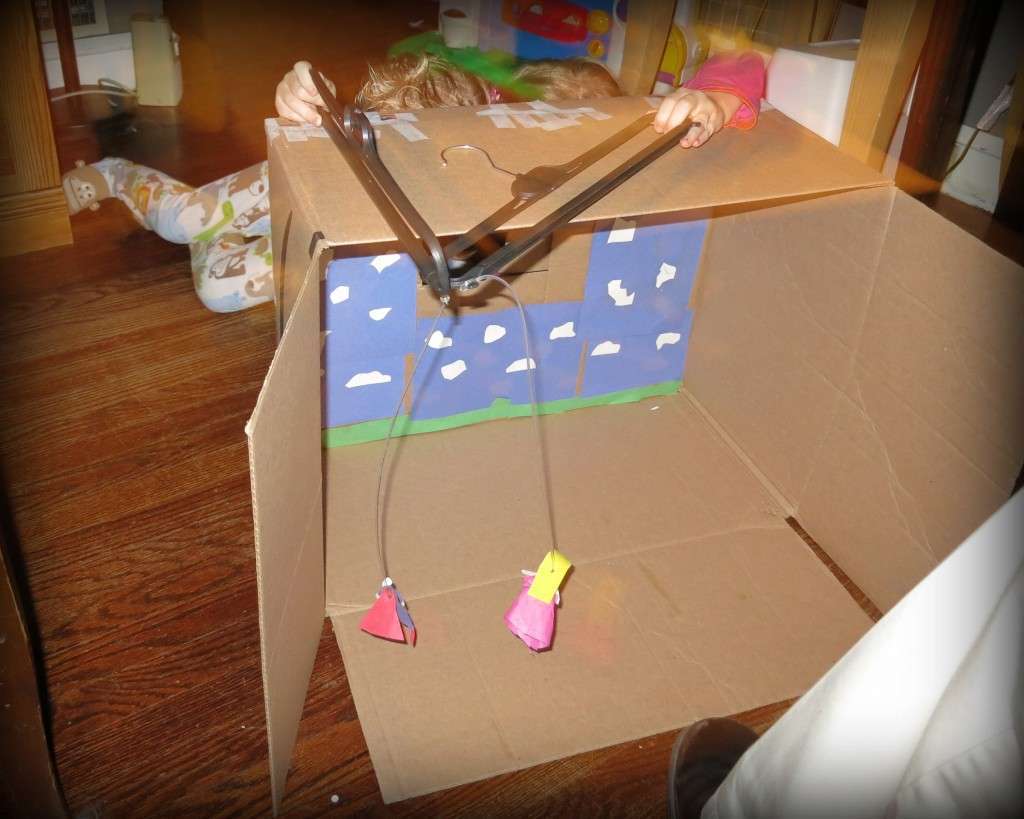 Mara and Micah lined up the dining room chairs and put on a "performance" for the whole family! It's fun to see them creating things and working together as a team.
The days can sometimes be crazy, but they're also full of simple joys and child-like wonder as we learn about our world together!