I've been looking forward to making some special Valentines treats. Two old college girlfriends were visiting us today, and one of them has children about Mara's and Micah's ages. I told Mara we could have a little Valentines Day "party" with them. I knew my friends liked chocolate, so that gave me a starting point.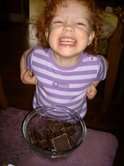 My sister-in-law made these fabulous chocolate truffles for Christmas this year, and she gave me the recipe. It's so incredibly easy, yet amazingly tasty! I had a little help from my 2-year-old unwrapping the chocolate squares, which was just about the hardest part! Of course, after we finished the truffles, Mara had to test-taste, just to be sure they were okay.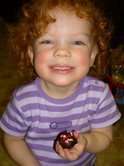 (How can you really go wrong with chocolate and cream cheese mixed together and rolled in more chocolate, decorated with Valentines' sprinkles?!) But Mara insisted on trying them.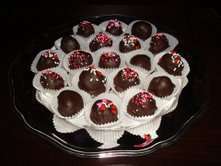 Mara has been convinced that we should have cake for Valentines Day. She has a book about Valentines Day, and at the end there is a big party (with lots of friends and cake), so in her mind, this is what Valentines Day is all about. Since we were having little friends over today, we compromised and made cupcakes!
Last year I saw these Red Velvet Cupcakes but didn't have time to make them. So when Valentines Day rolled around again, it was a quick decision. The picture on the recipe was so creative, I wanted to copy it exactly!  The red velvet cupcakes were decorated with a heart-shaped chocolate cutout cookie, using the Pampered Chef heart-shaped cookie cutter, and a ribbon tied around the cupcake!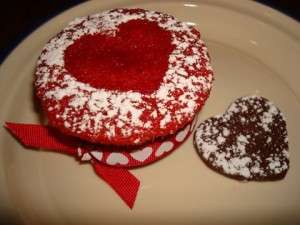 The coolest part is they are also lightly dusted with powdered sugar, so that when you take away the chocolate cookie, you have a heart-shaped design on top of the cupcake (with the powdered sugar). For me, those details transform a special dessert into an extraordinary one! I enjoy the decorating more than the actual baking; somehow it's therapeutic to me in the same way scrapbooking is.
I found a chocolate cutout cookie recipe on allrecipes.com.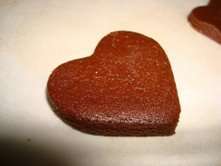 I used an airbake cookie sheet for two batches and they came out perfectly! The other batch (on a regular cookie sheet) was way too crispy.
Here is the finished product! It was hard to get Mara to wait till our "party" to eat them.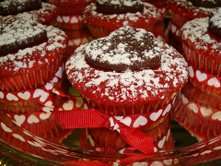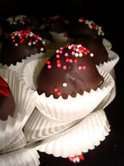 And, now, I'd like just one more truffle . . .
Happy Valentines Day!!